Be Safe – Don't Text and Drive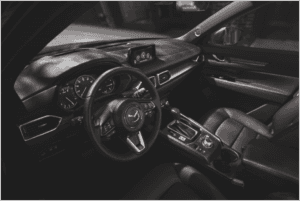 Texting and Driving with Mazda
As of 2018, over 257 million people in the United States own a smartphone.* Smartphones are such an amazing form of technology. They allow us the ability to communicate instantly with others. However, sometimes we can become so wrapped up in this virtual world we forget what's right in front of us; literally.
Cell phone use while driving leads to over 1.6 million crashes each year. Texting and driving is responsible for 1 out of every 4 accidents in the U.S. and is six times more likely to cause an accident than drunk driving.** Last year, there were 13,867 distracted driving accidents in Ohio.***
With Mazda, you can help prevent these accidents. Mazda MX Connect allows you the opportunity to read text messages and answer incoming calls without using your phone or looking down. Using bluetooth technology, when receiving a text message, a notification will pop up on your infotainment center saying you have an incoming message. You will be prompted the options to turn the notifications off, to ignore it, or to read it. By selecting read, your Mazda will read aloud the message to you while you are driving so you do not have to look down at your phone.
You can even make or answer calls. By pressing the talk button on your steering wheel, you will be able to say aloud who you would like to call. If the number is not saved in your contacts, just say "dial…" + the number you would like to call. You can also say "redial" which will call the last dialed contact and "call back," to call the last person that called you. When receiving an incoming call, just push the talk button and say "hello."
Sometimes we try to justify that it is okay to look down at our phone while driving. Whether it is telling our boss we are going to be late to work or we need to know if our children made it home from school. But it is never okay and there are better, alternate options than texting and driving.
Mazda also offers more than calls and texts. With Apple CarPlay available, you can access your phone, messages, music, maps and more. This can be added to any 2016 or newer Mazda and comes standard with most 2019 models. Learn more about Apple CarPlay here – https://www.mazdaofbedford.com/apple-car-play/
Keep your eyes on the road and your hands on the wheel. Stay safe with Mazda.
*https://www.statista.com/statistics/201182/forecast-of-smartphone-users-in-the-us/
**https://www.edgarsnyder.com/car-accident/cause-of-accident/cell-phone/cell-phone-statistics.html
***https://www.daytondailynews.com/news/local/police-targeting-distracted-driving-crashes-increase/G9obND7llnVKgNjzHVH7WL/