Rock On
Long Live Rock & Roll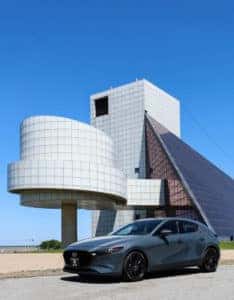 The Design 
We really couldn't have asked for a better day when Discovering the drive of the New 2019 Mazda3 Hatchback. But what really stands out to me in this specific picture, are the various different shapes. The architecture of the Mazda3 against the architecture of the building make for one amazing shot. 
The body of the Mazda3 was redesigned to create what Mazda called "lustrous and beautifully curved body panels." The Hatchback is something so sleek looking yet filled with such dynamic power. It is literally the perfect model for our fun photoshoot – between the body and the color. Mix that in with the dual-triangular-shaped glass tent that is the Rock & Roll Hall of Fame and you get an image so aesthetically pleasing to the eye. Add in the perfect Ohio weather, and bam! What a picture.  
Rock & Roll Hall of Fame
This Mazda3 is parked right in front of the Rock & Roll Hall of Fame. It was established in 1983 and has become a very well-known Cleveland Landmark. People will travel far and wide to come see the hall. Located at 1100 Rock and Roll Boulevard, this is definitely something to put on your list of Cleveland things to do. From Elvis in 1986 to Janet Jackson in 2019, there are hundreds of Rock and Roll inductees. 
There are so many things to do here. From live music events outside to the Garage where you can pick up an instrument and make your own music – there is something for everyone. No matter if you're 8 or 88, I'm sure you'll find something of interest. They even have student and military discounts on tickets! Grab the whole family and make a trip out of it! You could spend hours here. After that? Walk down the street to the Great Lakes Science Center or turn around and head to the Tequila Bar! 
Make sure to put the Rock & Roll Hall of Fame on your bucket list! 
Following along on our journey through Cleveland? Like us on Facebook for updates on new blogs! 
—
Photo by Shannon Clark