Preparing For Winter
5 Ways to Prepare Your Car for Winter

The winter weather can create a difficult drive between the ice, snow, and cold temps. It is so important for drivers to prepare for these conditions BEFORE they hit – especially in NEO. From now through the middle of November is going to be your best time to prepare for the cold weather. Don't wait until it's too late!
Here are 5 ways to make sure you and your car are ready for anything that this season will bring.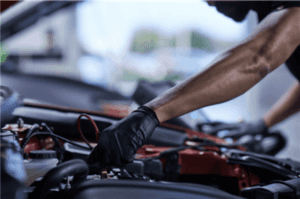 Test Your Battery
Run a battery test on your car before the cold weather hits. There's nothing worse than waking up for work on a winter morning and your car won't start. Make sure your battery is running smoothly and is ready for the chilly temperatures. 
Windshield / Wiper Blades
Seeing clearly when the fog and snow falls is crucial to safe driving. Check that there are no cracks in your windshield and look over your wiper blades to make sure they are functioning properly, not leaving any streaks. If they need replaced, purchase a new set. You should also make sure your windshield wiper fluid is full so you are prepared to wash away any unwanted dirt you get on your windshield.  
Inspect Your Headlights / Brake Lights
Having your lights on is very important when it comes to driving in the snow. You want to make sure you are seen on the road by other drivers. Check that your headlights and brake lights are OK before the snow falls to ensure road safety.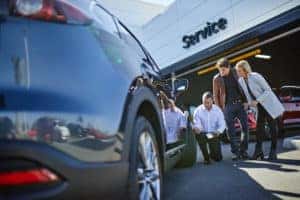 Your Tires
Tires with worn down treads can increase the chance of your car sliding on the snow or ice. Inspect your tire treads and if they're too worn down, think about purchasing a new set. Don't know how? Use the Penny Test! Find a penny and insert it into your tire's tread groove. Make sure Lincoln's head is upside down and facing you. If you can see all of Lincoln's head, it's time for new tires. Also, don't forget to check your tire pressure. It's not good to have low tire pressure any time but, especially in the winter.  
Keep Your Gas Tank Filled 
When the temperature drops, everything freezes. Don't let your gas tank get too low – always keep at least a quarter tank of gas in your car, if you can, to prevent condensation in your tank from freezing. If the condensation in your tank freezes, it can disrupt the gasoline which will result in your car to function improperly or to not run at all. 
Bonus Prevention! 
New Accessories
With the winter approaching, it's also a good time to think about purchasing some accessories for your vehicle! Here at Mazda of Bedford, we offer many different parts and accessories that could be a tremendous help for the frigid weather. Check them out below!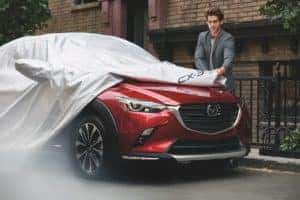 Car Cover – Keep your car protected! This is perfect for the winter, especially if you don't have a garage or shelter for your car. 
All Weather Floor Mats – Keep your floors clean! Don't let unwanted slush and snow ruin your floors. Protect them with these all weather mats. 
Remote Start – No need to go out in the cold when you can start your car from in your house! Check out our remote start options and get to heating your car quickly!
Splash Guard – Help protect your car against dirt, snow and slush with these splash guards, perfect for the rainy and snowy weather. 
And More! Check out our full catalog for all your parts and accessories!