What's New at Mazda of Bedford
Coming Soon – Grand Opening of New Store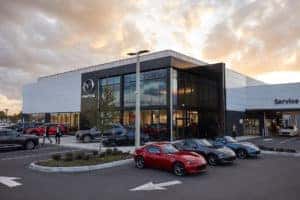 If you've been following our social media posts or have driven by the corner of Rockside and Northfield, you should know by now that Mazda of Bedford is building a brand new store! But what exactly sets this building apart from our current location? Great question, along with a plethora of updates to just about everything, I wanted to highlight a few key features that we will offer upon opening.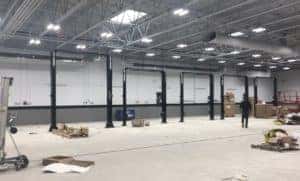 To start off, our Service Department will be much larger. We will have so many more lifts. Which yes, is still under construction but we are getting closer and closer! This allows our technicians to have more space to work as well as being able to hold more vehicles at once.
To continue with the Service Department updates, we will now have a Service Drive-In. When you arrive, you will be able to drive your car right up. We will post a video on how this works as soon as it's finished, so be on the look out for this awesome addition!
Within the Service Department, we will also have new and improved, updated alignment technology, as well as a drive-thru car wash. If you've had your car washed with us before, you know we only have a drive in and out wash, like a garage. Now, we will offer a drive-thru car wash to make things run more efficiently!
Our current waiting areas for Service and Sales are very distant from each other. With this new building, comes a new waiting area – all combined in one. All the departments will be much more integrated and more easily accessible to go from one department to another.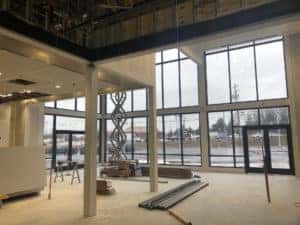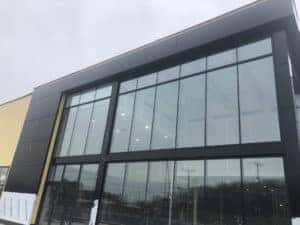 We know while you wait for your vehicle, sometimes you want to get your work done. We will have faster and state-of-the-art wifi available, to speed up not only your devices, but ours too!
Along with all these updates and advanced technology, the look of the building will also be much more modern. Mazda of Bedford has been in business since 1972 – that's 48 years! We will be adding a Jewel Box that will carry a Mazda on a lift right in the showroom.
With much more to offer, this new building has become a turning point for our dealership. Mazda of Bedford is eager to expand and show you what's "in-store" and we cannot wait for you to see it. Stay tuned for more updates, pictures, videos and soon to be the Grand Opening. We hope you are as excited as we are!
Follow along on our Facebook, Instagram, and Twitter for instant updates!