MyMazda Mobile App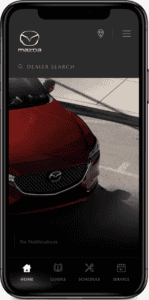 MyMazda App
You are now the proud owner of a Mazda! Your next step? Download the MyMazda App and make your Mazda experience more convenient than ever.
What can this app do for you?
Schedule service appointments

Review recommended maintenance

Track vehicle service history

Request Roadside Assistance

View videos personalized to your vehicle

Receive recall alerts

AND MORE
When you open the app, you'll need to register by creating an account. It will ask for your basic information, your vehicle's information, and your preferred dealer – Mazda of Bedford.
By setting a preferred dealer, you will be able to view the dealer's phone number and address, quickly schedule appointments, view their current service offers and route to the dealership.
On the home screen, you'll find many different options. A dealer map, menu, dealer search, notifications, home, guides, service and support.
When you go into the menu section in the top right corner, click on MyMazda. Here, you will be able to see your vehicle's details, your preferred dealer, your Mazda's manuals and guides, your services, the option to schedule a service, and a recall search.
By selecting Manuals & Guides, you will be able to access vehicle video how-to's, the owner's manual, smart start guide, Apple CarPlay/Android Auto, and the Mazda Connect.
All of these things and more will help your Mazda experience become much simpler. Download the app today to get started!