The No Names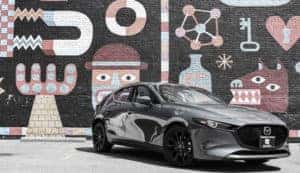 The No Name Murals
W 25th Street is the place to be when looking for Cleveland murals. The majority of the ones I have covered were on W 25th and in this case, both of these are on the corner of W 25th and Church Ave, in the same little parking lot. How convenient! 
Driving through Downtown Cleveland and Ohio City, there are a lot of traffic lights and stops. With Mazda's Radar Cruise Control turned on, the vehicle will match the flow of traffic while keeping a safe following distance. This is especially helpful for commuter traffic. 
After doing some research, it seems that neither one of these murals have a name. However, the first one was created by an artist named David Shillinglaw. To be honest, I am not quite sure what he was going for here but like any piece of artwork, it is totally up for interpretation!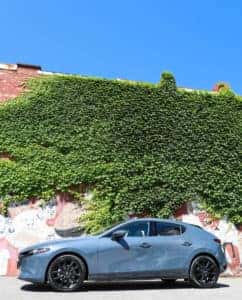 It is said that he took inspiration from Egyptian hieroglyphics, so I guess you could say these are more "modern day" hieroglyphics. There are so many things going on within this three-story high mural that each time you look at it you could make up a different story. I love the colors and all the shapes that he used. You could get so many unique shots just by standing by a different part of the wall. 
Thanks David for this colorful and fun piece!
As for this mural, I can't seem to find any information on it at all. I would love to give credit to the artist behind it so if you know anything, leave a comment below! This mural is adjacent to the one above. I think it is so interesting – between the muted colors of the painting and the green shrubs that cover more than half of the wall, it really makes for a fun shot. There is just something very eye catching to how this looks. Nature has a funny way of creeping into our photos. The Mazda3 fits perfectly under the vines and the unfiltered, blue sky adds such a pop to the photo. 
Have any ideas on what to title these murals? Leave a comment below and let us know your thoughts! Also, as we are nearing the end of our Season of Discovery, I hope you enjoyed Discovering the 2019 Mazda3 Hatchback as well as all the hidden gems throughout Cleveland. Don't forget to stop in anytime to see what Mazda of Bedford can offer you. 
—
Photos by Shannon Clark