Market Square Park
A Quaint Little Park
This photo is a little different than the previous ones. Instead of showing a specific landmark or mural, we took the Polymetal Grey 2019 Mazda3 right next to Market Square Park. This is the perfect place to relax for a little while. Whether it's catching a cup of coffee or an ice cold beer, it's a quaint little area to sit outside.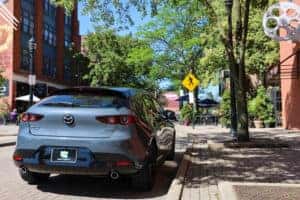 Shannon did an amazing job on this shot. This is probably the first photo in our photoshoot that really emphasizes the rear end of the hatchback. And yet again, the color is oh, so different than the previous photos. 
When driving in the 2019 Mazda3 Hatchback, the back-up camera clarity is insane – crystal clear with such crisp imaging. I couldn't believe how realistic it looked – as if I was actually standing outside seeing what was behind me. I rely so heavily on my back-up camera that the technology on the 2019 is just what I need. 
The Sights
On the left wall, you'll find a mural beautifully painted by Augustina Droze and Mike Moritz called By Hand. Droze got her inspiration by photographing the hands of those that work at or around the West Side Market. Moritz added his touch by including stripes made of aluminum. Driving past, the aluminum stripes really caught my eye. From one angle they looked white and the other angle was silver. The two of them together created something pretty fantastic. 
Eat & Drink
There's so much to do in such a small area. Koffie Cafe is up to the left. A cute little place to grab a cup and read a book or check up on what's trending on Twitter. While seating is limited on the inside, gather some friends and take a seat on their outdoor patio. Opening at 7am most days, stop in on your way to work. 
If you walk just next to Koffie Cafe, you'll reach the Flying Fig. The Flying Fig is a small American Eatery and Bar. With a cozy atmosphere and a variety of options, grab a bite and something to drink.
Across from Koffie Cafe is the Great Lakes Brewing Company. With good food and great beer, it's the perfect place for a nice lunch or to unwind after work. Not only can you eat and drink, but if you have an hour or so to kill, sign up for a brewery tour! Drink Responsibly. 
Film Goers 
Lastly, just on this little side street, to the right of that stunning Mazda3, is the Cleveland International Film Festival. They just had their 43rd festival this past Spring. The location here is their office; but you can find the festivals at Tower City Cinemas. There is definitely something for everyone here between all the different types of films. I highly recommend looking into it! 
With something to eat, something to drink, and something to see, Market Square Park is the perfect spot to sit back and relax. 
Take your new Mazda to the Square and check it out like we did!
Are you keeping up to date on our blogs? Make sure to like our Facebook page to see when the next one is posted!
facebook.com/mazdaofbedford 
—
Photo by Shannon Clark