National Holidays in July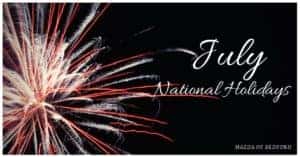 National Holidays in July
Each month, you hear about these crazy, unique holidays like National Doughnut Day (June 7th). So, we decided to round up some facts for about a dozen fun holidays that are taking place in July. While there are so many to celebrate we found these to be some of the best!
July 1st – International Joke Day | Get ready to make your friends and family laugh with your best joke.
July 3rd – National Stay Out of the Sun Day | While we love to adventure outdoors, who doesn't love an excuse to stay in and watch Netflix all day. Or cozy up with your favorite book and relax.
July 6th – National Fried Chicken Day | Find your local chicken restaurant and order up some fried chicken. Even better? Fry up your own at home! 
July 9th – National Sugar Cookie Day | It is believed that sugar cookies date all the way back to the 1700's.
July 11th – Free Slurpee Day | Head down to your local participating 7-Eleven for a free Slurpee!
July 14th – National Mac & Cheese Day | The oldest known Mac & Cheese recipe was founded in the 14th century in a medieval Engligh Cookbook. 
July 17th – National Hot Dog Day | In 1916, the hot dog was selling for a whooping price of 5 cents!
July 21st – National Ice Cream Day | The perfect summer treat.
July 24th – National Drive-Thru Day | In 1948, the first drive-thru opened at In-N-Out Burger.
July 27th – National Dance Day | Go out and bust a move!
July 29th – National Lasagna Day | Italians brought lasagna to the U.S. in the 1800's. 
July 31st – National Avocado Day | There is evidence that dates back to 8000 B.C. that wild avocados were first eaten in Central Mexico. 
Hope you enjoyed learning about a couple National Holidays and hope you get to celebrate each of them! 
All of these are on nationaltoday.com. Discover more and share with your friends!