Halloween Festivities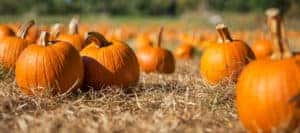 It's SPOOKTOBER! You know what that means, pumpkin patches, apple picking, trick-or-treating, hay rides, and most importantly…Haunted Houses! I've narrowed down a couple different choices around Ohio that would be perfect to go to this October. Not into scary things? Need something for the younger kids? No worries! Check out our "not-so-scary" Halloween festivities that are perfect for the whole family!
HalloWeekends at Cedar Point | 1 Cedar Point Dr, Sandusky, OH 44870 | https://www.cedarpoint.com/halloweekends
This is definitely one of my favorite things to do this time of year. Take the whole family to Cedar Point's Pumpkin Fest during the day and for those who dare can stick around for the Haunt of the night. Featuring Planet Spooky and the Great Pumpkin Parade, the kids will love it. After that, fear is waiting for you at the Slaughter House, Zombie High School, and more! 
Haunted Schoolhouse and Haunted Laboratory | 1300 Triplett Blvd, Akron, OH 44306 | https://www.hauntedschoolhouse.com/
I just went to this one opening weekend and let me say, it didn't disappoint. For $28, you get both the schoolhouse and the laboratory. The good thing about these though, is that there are multiple floors so just when you think it's about to be over, think again. The staff does an excellent job at staying in character and making your experience worth it. There were kids in front of us about 7 or 8 years old who were definitely spooked but it wasn't too scary! This place was cool too because they had food and drinks outside, a bar for the parents, and even axe throwing. Definitely something to check out this October. 
7 Floors of Hell | 19191 Bagley Road, Middleburg Heights, OH 44130 | http://www.7floorsofhell.com/index.html
This is another one of my favorites! Located in the Cuyahoga Fair Grounds, 7 Floors is worth your time and money because you get SEVEN different houses – including The House of the Dead, The Butcher Shop, and the Mental Ward. Seven different "Floors" with seven different themes. You can spend a good amount of time at this one. I make sure to make it here every year. 
Escape From Blood Prison – at Mansfield Prison | 100 Reformatory Rd, Mansfield, OH 44905 | https://www.bloodprison.com/ 
If you're looking for a true scare, Mansfield Prison is the place to be. Located inside the Ohio State Reformatory is a haunted experience made only for the brave. Children under the age of 13 are not permitted due to the intensity and overall nature. The reformatory was built in 1886 and remained open until 1990. Some of those prisoners decided to stick around… "Enter if you dare… Escape if you can…"
**On-site tickets are cash only!!
Carnival of Horrors | Blossom Music Center 1145 West Steels Corners Road Cuyahoga Falls, Ohio, 44223 | http://carnivalofhorrors.com/ 
While there are so many haunted houses to choose from, the last on my list is the Carnival of Horrors, located at Blossom Music Center. This one includes FOUR different houses for only $25. "Voted #1 in the Midwest and Top 5 Scariest Haunted House in the WORLD," this is a must-see if you're from Ohio! I haven't been to this one in about 2 years but I am for sure going to make my way this October!
—–
Not into scary? No worries! Here's a couple alternative events that offer a slightly different Halloween experience. 
Mapleside Farms | 294 Pearl Road Brunswick, OH 44212 | https://mapleside.com/
Since this is only 5 minutes from my house, this is one of my all time favorite places to go during the Fall season. Perfect for the entire family and all ages! There's over 20 attractions including the Pumpkin Village, Jump Park, Giant Slides, Corn Mazes, Hay Rides, "Wine Your Way Thru," and more! You have to check it out! 
Boo at the Zoo |  3900 WILDLIFE WAY, CLEVELAND OH 44109 | https://www.clevelandmetroparks.com/zoo/
This is one that I am already planning to go to this year! I love Halloween and the Zoo so what better way to celebrate than with Boo at the Zoo. Bring your kids, dress them up, go trick-or-treating, and even join in on the Monster Mash Dance Party! 
Rockin R Ranch – Old West Pumpkin Fest | 19066 East River Road Columbia Station, OH | https://www.clevelandhayride.com/
With Pumpkin Painting, Straw Mountain, Pumpkin Slides, Zombie Paintball and more, Rockin R Ranch offers a wide range of festivities for all ages! Want a little scare? Rockin R Ranch also offers Spooky Ranch – Click here for more info https://www.spookyranch.com/
HalloWeekends
As listed above, HalloWeekends can be scary, but it can also be perfect for kids! Head over to the website for more info on this one!
—–
While there is so much to do in Ohio in the Fall, I hope you decide to check out some of my favorite attractions! Halloween is such a fun time of the year – Enjoy!!