Flats East Bank
Main Avenue Bridge
I absolutely love the color of this bridge. The Main Avenue Bridge, also known as the Cleveland Memorial Shoreway Bridge, was the longest bridge in Ohio until the completion of the cable-stayed bridge in Toledo, in 2007. However, it is still considered the longest historic bridge in Ohio. Constructed in 1939, this bridge runs over the Cuyahoga River and is 8000 feet long, while the Toledo bridge reaches 8800 ft.   
This bridge is located over the Flats East Bank – which is the perfect place for day activities or a night out. There's so much to do! Grab a bite at Shooters on the Water, a drink at Collision Bend Brewing Company, visit the Greater Cleveland Aquarium, and for dinner? Music Box Supper Club – for some food and music, Alley Cat Oyster Bar – for delicious seafood, or the Nautica Queen Cleveland's Dining Cruise Ship – for dining and sightseeing. These are just a few things to see and do. Drive your Mazda over the bridge and down to the Flats to see what else you could discover. 
And once again, the color of this 2019 Mazda3 Hatchback is so different from the last. With the sun shining right down, the hue this photo illuminates is gorgeous. The blue reflection of the bridge almost gives the car a blue tint. 
Lake Erie Views
Driving down not too far from the bridge, is this cute little spot – all the way at the end of E 9th Street Pier. After passing the Rock & Roll Hall of Fame and the GOODTIME III, you'll reach this cornered brick path that lets you get a full view of the Lake. The water might not be as clear and blue as the sky but it's definitely a great view! Talk about the perfect family photo shot right in front of the ropes.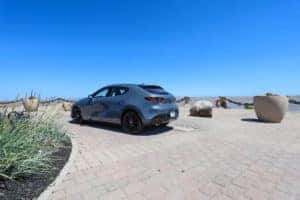 If you drive around the little circle to the left, there's the Cleveland Pier Volleyball Courts. Enjoy some friendly competition or walk a little farther into the Voinovich Bicentennial Park. Here you have the obvious views of Lake Erie, but also a little outdoor festival stage and one of six Cleveland Script Signs that were mentioned in a previous blog post. Yet again, another great photo opp! 
Stay tuned for more fun and exciting blog posts as we continue our journey through Cleveland while Discovering the 2019 Mazda3! Find the perfect Mazda for you below! 
—
Photos by Shannon Clark