Mazda Ranks Most Reliable Car from Consumer Reports
Consumer Reports Ranks Mazda as the Most Reliable New Car of 2020
With Toyota and Lexus just behind, Mazda ranks at the top of the list for the Most Reliable New Car Brand of 2020. Check out the chart below and keep reading for specifics on the 2020 Mazda CX-9 and the 2020 Mazda CX-5.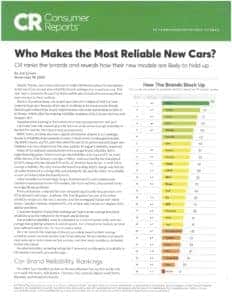 Consumer Reports (CR) says, "…the CX-9 is an inspired revelation, feeling alert and hunkered-down through the corners." "…the CX-9 provides a welcome alternative from the herd of similar three-row family SUVs." They wrote that the best trim level, in comparison to other brands and trims, is the Touring with the Touring Premium package.
Below are the Road Test results from CR. The road test puts two models from each brand through 50 paces. The CR customer surveys add to the scores for those models that owners agreed to recommend or would buy again.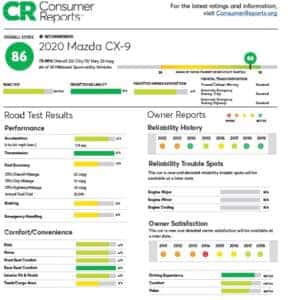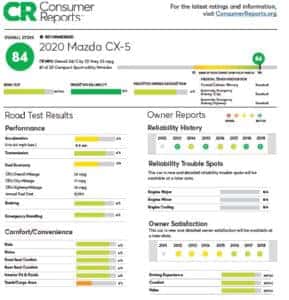 With an overall score of 86, the 2020 Mazda CX-9 ranks the highest in reliability. Rear seat comfort, transmission and overall driving experience are the top categories from the road test.
The 2020 Mazda CX-5 comes in to play with an overall score of 84.
Highs and Lows according to Consumer Reports –
2020 Mazda CX-9
Highs:
Nimble handling for its size
Effortless power delivery
Comfortable ride approaches luxury-SUV levels
Above-average fuel economy
Grand Touring and Signature versions plusher than the competition
Standard forward collision warning  and automatic emergency breaking with pedestrian detection
Lows:
Infotainment system's learning curve
Not as roomy as some competitors, including a tight third-row seat
Short on towing capacity compared to V6-powered rivals
2020 Mazda CX-5
Highs:
Rides comfortably
Quiet cabin
Responsive handling
Nicer interior than the class norm
Standard forward collision warning and automatic emergency breaking with pedestrian detection
Lows:
So-so visibility to the rear corners
Infotainment learning curve
Fuel economy not a standout
https://www.consumerreports.org/cro/index.htm