Cleveland Views
Views From the Sign 
Edgewater Park 
What. A. View. Yes, the cityline, lakeshore, and famous Cleveland Script Sign, but also, that Mazda3. The ever-changing Polymetal Grey really shows its many hues against the clear blue sky on this gorgeous afternoon. Look at that black finish alloy on those wheels. This shot really emphasizes the body line of this New 2019 Mazda3 Hatchback Premium.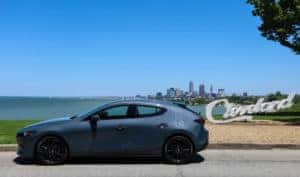 Cleveland Script Sign 
We drove our Mazda3 Hatchback to Edgewater Beach to capture such a breathtaking view. This sign, located at 6500 Cleveland Memorial Shoreway, is one of six Cleveland Script Signs around the city. Known for its infamous sunrise view, this is the first thing you see before you walk down to the beach area. Talk about a perfect spot with a perfect car. 
The other signs are located in Tremont, The Foundry, Cleveland Hopkins International Airport, Euclid Beach, and North Coast Harbor. While they each offer such different scenery, this one has got to be one of my favorites. 
Edgewater is the perfect place in the nice weather. Take your dog for a nice walk on the Ohio to Erie Trail, go down to the beach and play some sand volleyball, take your fishing pole to the Edgewater Pier, or just sit in the pavilion and have a little picnic. 
Get in your new Mazda, grab a couple friends, and head down to Edgewater to snap a pretty amazing picture with this Cleveland sign.
Don't drive one yet? Come to Mazda of Bedford to test one out. 
A view like that, needs a car like this. 
—
Photo by Shannon Clark