Mystery Mural
Mystery Mural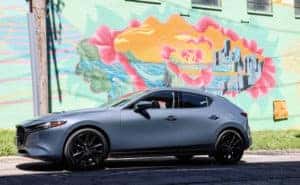 On the corner of Washington Ave and Center Street you'll find, what I like to call, the mystery mural. I have searched and searched and cannot seem to find any information on this amazing piece. It looks to me like an overview of the city from the view at the top of Edgewater Park. The wall opens up as if you were ripping it open to see the city line and the lake. I absolutely love this one but more importantly, I love the colors because it makes the Polymetal Grey on the Mazda3 really pop.
The exclusive playful color of this 2019 Mazda3 Hatchback really shines against the teals and pinks of the mural behind. This color is meant to play with your eyes. Depending on the sunlight, this Polymetal Grey will give off either a matte finish or a strong metallic shine. In this particular mural, the color of the car almost matches the color of the sky scrappers. I am still so amazed every time I go back and look at our photoshoot because each picture has its own unique hue. No filter needed.
The Bubble Process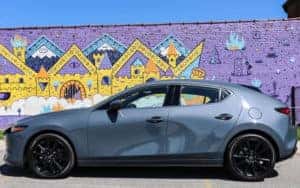 Before taking this photo, we were able to take the Mazda3 around the wide open parking lot. As a previous owner of Mazda3's, driving the New 2019 
Mazda3 is such a difference. Mazda has really redesigned this car to drive such a smooth ride. Even the steering of the wheel felt effortless but still in control.
On the side of the Market Garden Brewery – behind the West Side Market – you'll find this bright and fun hidden gem. In 2017, The Bubble Process painted this piece with a little inspiration from a poem written by Rowan Ricardo Phillips. The line on the bottom reads: "This is what it sounds like when I'm thinking." Sean Higgins of Ohio and Nicholas Rezabek of Connecticut, are the faces behind this beautiful work of art. With such a happy feel, this is the perfect spot for your next photo opp!
Thank you Bubble Process for this amazing piece! If anyone has any info on the Mystery Mural – feel free to comment below! 
Feel the ever-so smooth ride for yourself with a test drive at Mazda of Bedford.
Thanks so much for following along on our Season of Discovery summer adventure. I really hope you enjoyed learning about a few of the mysteries of Cleveland. I really enjoyed researching them and getting to see them for myself! Feel free to share any of the blogs to your friends and family! Don't forget to like us on Facebook – facebook.com/mazdaofbedford Follow us on Instagram @mazdaofbedford and Subscribe to our YouTube Channel! Stick around for what's to come!
—
Photo by Shannon Clark