Christmas in Cleveland

7 Holiday Events Around Cleveland
December is one my favorite times of the year! Besides the frigid weather, I love looking at Christmas lights, the crazy mall shoppers, spending time with my family, and doing all the traditional holiday activities – baking cookies, decorating gingerbread houses and even building snowmen! Even though Christmas is only one week away, there is still plenty of time to get some holiday fun in. I put together a list of events going on right now in or around the Cleveland area, that are perfect for the whole family. Get the kids out of the house over holiday break! – Check these out and share them with your family and friends! 
Outdoor Holiday Ice Skating Rinks
Located in Public Square, take the whole family for some outdoor ice skating fun! The Cleveland Foundation Skating Rink is now open and will remain open until February 28th. They even offer a discounted pack of tickets if you can round up 10 friends and family! 
Looking for something a little smaller and slightly cheaper? Another ice rink around Cleveland is at University Circle – Rink at Wade Oval. This one is open now until February 17th but is mostly open during the weekends only. They also have some special offers that are worth checking out!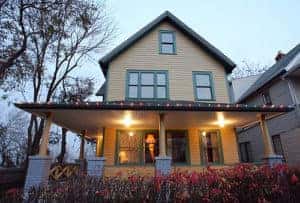 A Christmas Story House
While the A Christmas Story House & Museum is open year round, this season is the perfect time to make a visit, with extended hours during December! Tours run every hour beginning at 10:15 AM and tickets are only $10 for children and $13 for adults. Take the whole family on this one-of-a-kind tour in a replica home of Ralphie Parker! Also, go across the street for some behind the scenes photos and costumes from the film! 
Speaking of A Christmas Story, this year, the Cleveland Play House is showing this production! AND the Ohio Theater is putting on the classic A Christmas Carol.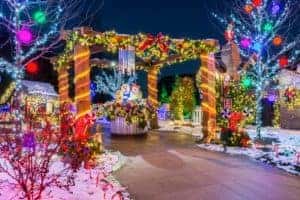 Deck the Hall – Comic Hero Christmas
Are you interested in classic comics? This year, Stan Hywet Hall will have nineteen different rooms that are all themed with classic comics heroes such as Spiderman, Batman, Wonder Woman and The Hulk. There will be a nightly tree lighting and photo ops with Santa and Rudolph, so many treats like fresh gingerbread cookies, hot cocoa, (even beer and wine for the adults!) and don't miss the new giant snow globe and over sized candy canes! Tickets are on sale now – College students with a valid ID get a discounted price! 
Glow at Cleveland Botanical Gardens
At the Cleveland Botanical Gardens, from November 23rd through January 4th, Glow has everything from Gingerbread House making, Gnome Scavenger Hunts, and Gingerbread Displays, to an Indoor Snow Play Area, the Garden Express Railway and so much more. Glow is the perfect holiday event for the whole family. They even have live holiday music on select days! *Some fees may apply for certain activities – See website for more info.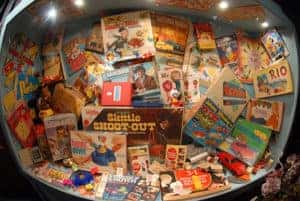 Castle Noel 
Also open year round, Castle Noel is your one-stop-shop for all things Christmas. Castle Noel features movie props and costumes from your favorite Christmas movies – such as "Elf," "The Grinch,""A Christmas Carol," and more! There's also an 'I Had That' toy section from toys back in the 50's through the 80's pictured to the right and you even get to finish the tour by sliding down the slide with your photo taken! While you can go here any time during the year, Christmas is the best time! Take your family and friends and check out Castle Noel – located in Medina, Ohio.
Wild Winter Lights at Cleveland Metropark Zoo
Who doesn't love the zoo? This holiday season, bundle up and make sure to hit up the Wild Winter Lights at the Cleveland Metropark Zoo! Made up of over one million different lights, this experience is a must-see. You'll be able to take photos with Santa, enjoy a light show and play winter games! Open 5:30 – 9:30 from now until January 5th.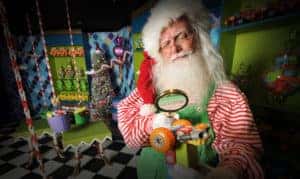 Kringle's Inventionasium
Lastly, now that the kids are out of school for the holidays, this STEM-accredited educational experience is a perfect way for the kids to use their creativity in the Brainstorming Department at Kringle's Inventionasium. The kids will get to help Mr. Kringle invent a toy! Travel through the secret tunnels, experiment in the Grow Snow Laboratory, invent in the Whatchamacallit Workshop and show off your invention in the Grand Invention Hall. Holiday outfits or pajamas are encouraged!
With so much to do and so much to see, start planning your holiday fun today!
Happy Holidays and Merry Christmas from Mazda of Bedford! 
And as always, still looking for that perfect gift for someone special? Check out our Mazda Inventory and Mazda Parts and Accessories Catalog!