2019 Mazda CX-9 Safety Features
Mazda i-ACTIVSENSE Safety Features on the 2019 Mazda CX-9
Mazda's largest SUV is going to be your CX-9. This is the perfect ride for someone looking for more cargo space or more room for passengers, as it extends to third row seating.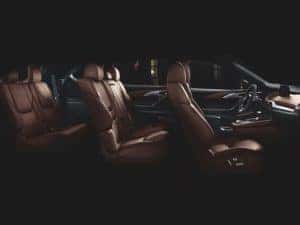 Mazda wants to keep you safe while making you still look good. As you upgrade trim levels, you'll begin to gain access to more and more safety features. Listed below are all of Mazda's current i-ACTIVSENSE safety features on the 2019 Mazda CX-9. A lot of these features are available on other Mazda models. In my case, I drive a 2019 Mazda CX-3 and will even give a quick little review if I have used or experienced these features in action.
Features:
Mazda Radar Cruise Control with Stop & Go – This gives you the ability to maintain a set speed, as any cruise control would, but also keep a minimum following distance from the traffic in front of you. Meaning, if the car in front of you slows down or comes to a stop, your Mazda will do the same without putting your foot on the brake. I love this feature and use it all the time commuting to work.
Smart Brake Support with Collision Warning – When driving above 10 mph (and not set on Mazda Radar Cruise Control), this feature will detect the vehicle in front of you and will warn you when braking is immediately needed. In the occasion in which you don't apply the brakes in time, your Mazda will do it for you. This actually happened to me when another vehicle cut me off switching over lanes. I did not have enough reaction time to hit the brakes and my Mazda did it for me!
Blind Spot Monitoring – This feature is super helpful especially when changing lanes or merging. If someone is in your blind spot, there will be a light on your side mirrors. As soon as your flip your blinker on, if someone is still in that blind spot, you Mazda will warn you with a quick audible chime. Again, this one is so nice to have while driving in rush hour traffic.
Rear Cross Traffic Alert – While backing up, similar to Blind Spot Monitoring, this feature lets you know when a car is crossing behind you and approaching from your sides. It will send you an audible warning as well as a visual one in your side mirrors and on your display screen. Sometimes, especially in a parking lot, your sight is limited – even in your Back-Up Camera – so this feature can warn you even beyond what you and your camera can see. My CX-3 is smaller than the CX-9, therefore, when parking next to very large vehicles and trucks, my sight is even more limited, allowing this feature to help me immensely. Backing out of a driveway onto a busy road is always a hassle. This feature relieves my worries and lets me know when it is safe to go!
Lane Departure Warning System – This one comes in handy, for me, way too often to admit. This feature acts like another set of eyes. When traveling over 37 mph, this feature sends you an audible and visual warning when you are about to unintentionally leave your lane – meaning you don't have your blinker on. Especially when I am driving with pets because I can get distracted or even just at night as it's harder to see, this feature really keeps me in my lane!
Lane-Keep Assist – Going hand-in-hand with your Lane Departure Warning System, after detecting and warning you that you are leaving your lane, your Mazda will perform minor steering corrections to guide you back to your lane. Unfortunately, my CX-3 does not have this feature, but I did experience it on a loaner Mazda3 and I was definitely caught off guard the first time, but wow did it help!
Adaptive Front-Lighting System – Your headlights follow your wheels. Your headlights will turn up to 15 degrees as you turn the wheel so you are able to see what's around the corner. A feature you probably never thought you needed, but I promise you, it makes such a difference!
High Beam Control – With High Beam Control on, your vehicle with automatically turn your high beams on and off as needed. I really like this feature because I can be

that

driver that forgets to turn my brights off until it's too late.In this case, your high beams will turn off when your Mazda detects oncoming traffic or a vehicle in sight.
Advanced Smart City Brake Support – Similar to Smart Brake Support, this feature is typically for city driving, including parking lot speeds. It detects when vehicles or people are ahead and will then warn you, adjust the brakes, and apply the brakes if needed.
Traffic Sign Recognition – With the cameras on your Mazda, this feature can actually read most speed signs and then display it on your Active Driving Display, allowing you to always be aware of the speed. Commuting to two jobs, 30 miles apart from each other, I take many roads to get to and from. This feature comes in handy for a quick check to make sure I'm always going the right speed!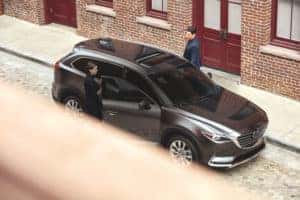 —–
So, if you're thinking 'Why Mazda?' Think 'Why Not!' Safety is the most important part of buying a car, besides the fact that it will get you to where you need to go, of course. We want you to look good and stay safe while doing it.
With these i-ACTIVSENSE safety features, engage in the drive while first feeling confident. Stop in for a test drive and try out these amazing features for yourself.
**These features are not substitutes for safe and attentive driving. Factors such as weather, road conditions, and limitations to range can affect how these features operate or don't operate. Please see your Mazda's Owners Manual for more detailed support.
**All Safety info came directly from Mazda USA's website.